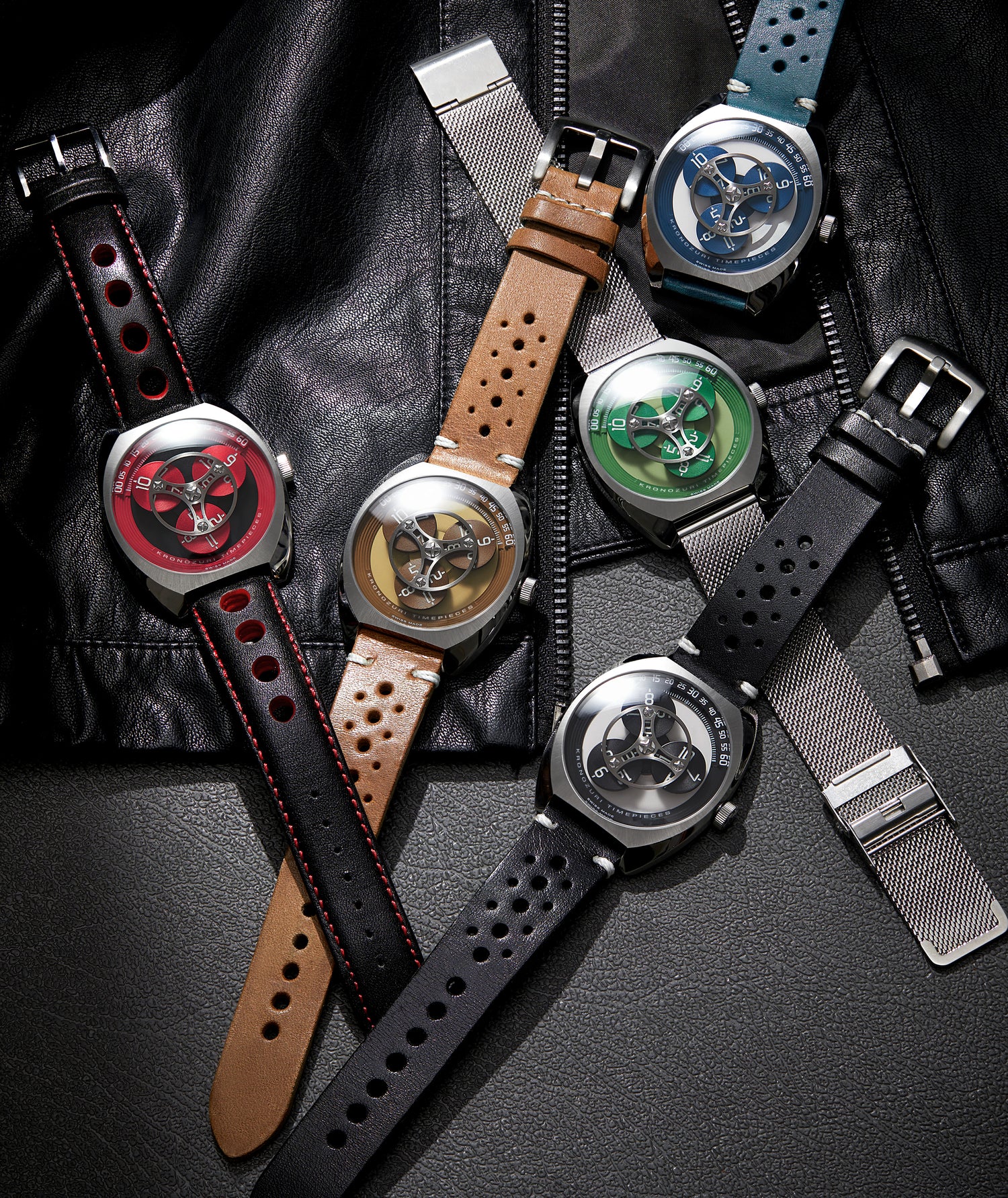 KRONOZURI WANDERER
With precise details and vintage styling, this watch is distinctive, exhilaratingly classic,unique and boldly innovative. The design elements of the three-wheeled and the Maltese cross movement form the dial, making the interlock looking like a halo of time and space. Inspired by vintage car steering wheel, this expresses class and elegance. The three rotating wheels show the number of hours on the hour hand, and the number of minutes on the top of the dial allows the wearer to read the time and feel the magic of the hour hand digits as they travel through the dial.
SHOP
WANDERING HOUR

The wandering hours complication is very old. Traditionally, it's attributed to the Campani Brothers, who are thought to have made one as a commission from the Pope, in the mid-1600s. This complication is typically built for much more expensive brands such as Audemars Piguet,Urwerk, Arnold & Son, and Vacheron Constantin – watches that sell for TENS OF THOUSAND ! We prefer to trying to make extreme quality and special watches at less cost to our customers.

Swiss Super-LumiNova®

All models feature Swiss Super-LumiNova® filled for late night adventures. Luminous pigments work like light storage batteries, where UV light charges the "battery," and, afterward, the energy is slowly emitted in the form of light. This activation and subsequent light emission process can be repeated again and again, and the material does not suffer from aging.  

SAPPHIRE CRYSTAL

Double domed sapphire crystalwith anti-reflective coating. Sapphire crystal has excellent thermal properties, also it is chemically resistant, heat resistant, hard, and chemically stable. It makes this watch very sturdy.

Swiss made Sellita SW200-1

The Kronozuri W3 is powered by Swiss made Sellita SW200-1 automatic movement with wandering hour module. It registers at 28,800 beats per hour and has a power reserve of 38 hours. Each module is thoroughly tested throughout the assembly process to ensure it still holds the same factory chronometric standards (Accurate to +/-10 seconds a day).The SW200-1 movement has precise control and reach chronometer standards.